BOSS Sponge
PUT THE BOSS TO WORK FOR YOU!
The World's Best Sponge for washing your vehicle - Period! Environmentally friendly – only soap & water needed!
BOSS Sponge Cleaning a Car Interior Video
Quick and Easy Bug Removal Video
Only Available Online - Order Now
SAFE FOR ALL CAR & TRUCK SURFACES - paint, clearcoat, plastic, metal, glass, etc. Bugs are removed completely. So safe, so effective, you can wash your entire car with the BOSS Sponge! Your satisfaction is guaranteed.
REMOVE BUGS EASILY & QUICKLY, EVEN WHEN TRAVELING!
The reusable BOSS Sponge safely removes all bugs, even the dreaded Florida "love bugs", with only soap & water - no harmful chemicals needed.
Put the BOSS Sponge to work cleaning your car or truck!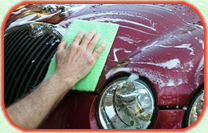 The BOSS Sponge safely removes dirt, grime, bugs, even brake dust and minor road tar, - using only soap & water. SATISFACTION GUARANTEED!
The only Bug & tar removal pad that works with only soap & water – environmentally friendly!
Great for cleaning brake dust off wheels!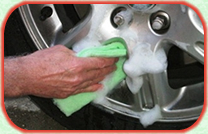 No acids or harmful chemicals to ruin your wheels or ruin your health – just use soap & water.
Easy to fold to clean areas between and behind spokes – give your wheels that "deep clean" look.
Wash out the BOSS Sponge with water from the hose – use over and over again!!
BOSS Sponge
One Pack
Price: $7.99
S & H: $3.29



---

Buy 2 Sponges
Get 1 Free!

The BOSS Sponge
3 Pack Only $15.98

S & H: $3.29


---

BOSS Sponge

Kits
Easy Reach - Easy Clean
Includes:
1 BOSS Sponge 3 Pack
1 Holder for the sponges to attach to any threaded pole

Price: $29.98
S & H: $7.99






Use the BOSS on the holder to wash high areas of your trailer, boat, RV, motorhome, even the windows of your house!  Attaches to any threaded pole and holds the BOSS Sponge securely even soaking wet.

---

Clean & Dry Kit
Includes:
2 BOSS Sponge 3 Packs
1 Interior Cleaning Pad
1 Flat holder – holds 1 BOSS Sponge to any threaded pole – ideal for small areas, under ladders, between windows, etc.
1 Curved Holder - Built in 15 degree concave curve – great for cleaning large areas, curved body panels, windshields. Flattens out easily with slight pressure on pole to apply extra cleaning power to high or hard to get at areas. Holds 2 BOSS Sponges.
1 Silicone blade squeegee – dries flat, curved, and uneven surfaces completely dry in 1 swipe – use by hand or on a pole - pre-drilled to mount on any pole with a threaded end.
1 Clean & Dry Kit bag
Price: $59.98
S & H: $14.00.




Extends your reach to both wash and dry the high areas of your trailer, RV, motorhome, boat, or...the house windows! Our silicone blade aqueegee is flexible to conform to auto body contours and curved windshields. It dries completely dry in one swipe. Use the BOSS Sponge or squeegee by hand or mount either to any threaded pole.



---

---