THERE IS NO BETTER PRODUCT FOR CLEANING SHIPS!
Awesome Products Corp. - 904-280-1499 - admin@bossproducts.net
Duns Number: 09-713-8064 | Cage Code: 1WMF4
Clean Both Your Painted Surfaces and Non-Skid Decking

BOSS FORMULA R®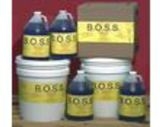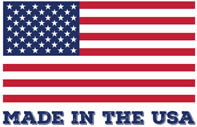 BOSS Formula R® safely cleans "running rust" from your painted surfaces. Just clean it instead of the time and expense of scraping, sanding, & repainting.
Contains no acids or caustics. Will not remove or bleach paint but will remove running rust better than anything you have ever used! Does not leave a "white haze" on the paint.
BOSS Formula R® safely cleans non-skid decking, removing dirt, grime, oil, grease, rust, fuel residues, hydraulic fluid, etc., from non-skid decking leaving your deck as clean as the day the decking was applied. Get those white lines looking freshly painted again just by cleaning them!
Ordering Information on Bottom of Page
REASONS TO USE FORMULA R®
Economy & Value – concentrated product, dilute 10 or 20 to 1 depending on contaminant to be cleaned. We don't charge you for water or charge you to ship a product with water in it!

Biodegradable in both soil & water

Use with a foamer – pressure washer – by hand – bucket & brush - or steam cleaner. Safe for separators!

Safe for all painted and unpainted surfaces

One of its active ingredients actually helps preserve unpainted metals from corrosion

10 year shelf life

Not flammable or explosive.
-AIRCRAFT CLEANING KITS-
NSN: 7920-00-490-6046
We manufacture and sell our own pads and we also sell the NIB (AbilityOne) kits
Aircraft Cleaning Kit Includes Two 6 x 12 x 3/8 Inch White Cleaning Pads, Two 6 x 12 x 1 Inch Polyester Polishing Pads, & Concave Swivel Type Applicator Head Designed For Scrubbing Aircraft Exteriors
The pads in the kit from NIB (Ability One) are abrasive, as stated by 3M itself (See MSDS). Corrosion may start this way as you are scraping the protective coating and paint as you are washing ***3M MSDS***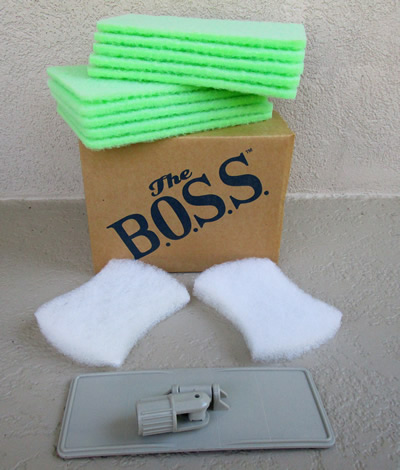 NSN: 7920-01-506-0342
Kit contains 10 B.O.S.S. Aircraft Cleaning Pads, 6" X 9 ½" and 1 Flat Swivel Type Applicator Head Designed For Scrubbing Aircraft Exteriors and 2 Multi Purpose Hand Pads for interior or exterior use.

Non-abrasive to any surface. Ideal for cleaning painted surfaces, this non-abrasive B.O.S.S. Aircraft Cleaning Pad enhances friction to loosen dirt but does not scratch or alter the gloss level of the surface or surface coatings. May be used with a variety of cleaners while safely cleaning painted or unpainted aircraft surfaces, acrylics and polycarbonate. Tested with aircraft cleaning agents complaint with MIL-PRF 86937D and MIL-PRF 885570C. Color: Light Green. Pad size 6" X 9 ½"
Highly efficient non-abrasive pad for cleaning painted or unpainted surfaces

Will not scratch or alter gloss levels on coated surfaces

Works well with commercial aircraft cleaners

Attaches easily to BOSS pad holders
CALL OR EMAIL FOR PRICING
Extremely effective at cleaning yet non abrasive to your paint!
Reusable over & over again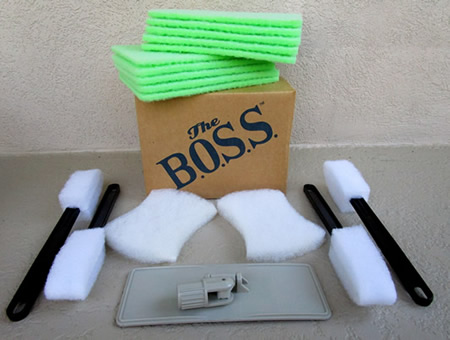 REASONS TO USE B.O.S.S. AIRCRAFT CLEANING KITS:
Value – 10 pads in kit instead of 4 with NIB Kits
NON-ABRASIVE – The only pad sold that contains no abrasives. Sold for 9 years by Ace Hardware under the name "Love Bug Eraser" to clean cars with, because they are safe & effective.
Superior Cleaning – No other pad cleans better or more effectively
GUARANTEED – The best pad you have ever used or your money back
Deluxe Kits contain our patented Flap Well Cleaning Wands for reaching those "hard to get at" areas such as behind pipes and wiring

FLAP WELL CLEANING WANDS
Patented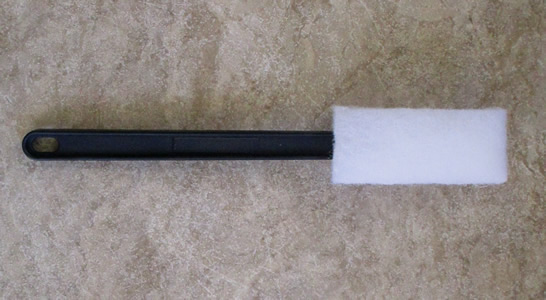 Our patented, reusable, 12 inch wands let you easily reach & clean "hard to get to" areas such as under pipes and wiring, etc. They are safe for any surface, and work with any cleaning products.
Purchase directly from Awesome Products Corp. at prices lower than the prices on GSA or GSA Advantage
We accept all credit cards including
the government credit card!
15004 - Formula R
Case of 4- 1 gal
NSN: 7930-01-518-7503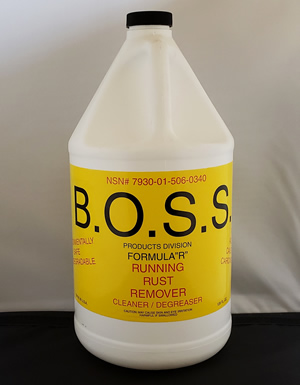 15005 - Formula R
5-gal. pail
NSN: 7930-01-515-1071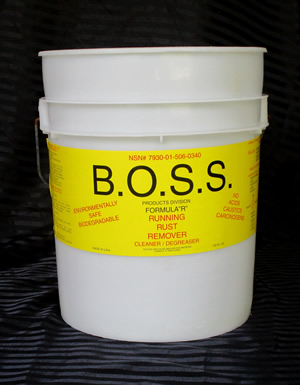 15055 - Formula R
55 gal. drum
NSN: 7930-01-518-7504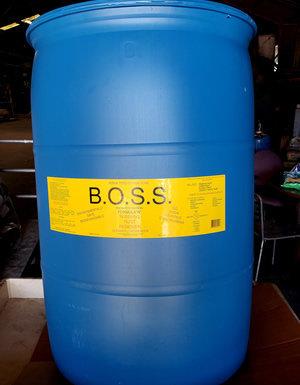 11080 - Ability One Kit
NSN: 7920-00-490-6046
(contains 1 holder & 2-1 in. thick pads & 2 – 3/8 in. thick pads and 1 swivel holder)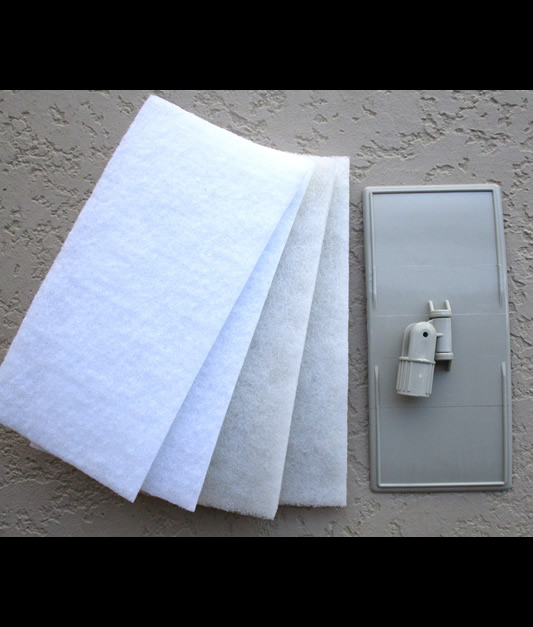 11070 - B.O.S.S. Aircraft Cleaning Kit
NSN: 7920-01-506-0342
(contains 10 BOSS Aircraft Cleaning Pads, 2 Multi-purpose hand pads, and 1 swivel holder)
**Since these kits are not sold by Ability One and they are not identical items to anything sold by Ability One, the JWOD restrictions do not apply to your purchase of these kits!
11075 – BOSS Deluxe Aircraft Cleaning Kit
(contains 10 BOSS Aircraft Cleaning Pads, 2 Multi-purpose hand pads, 4 patented Flap Well Cleaning Wands, and 1 swivel holder)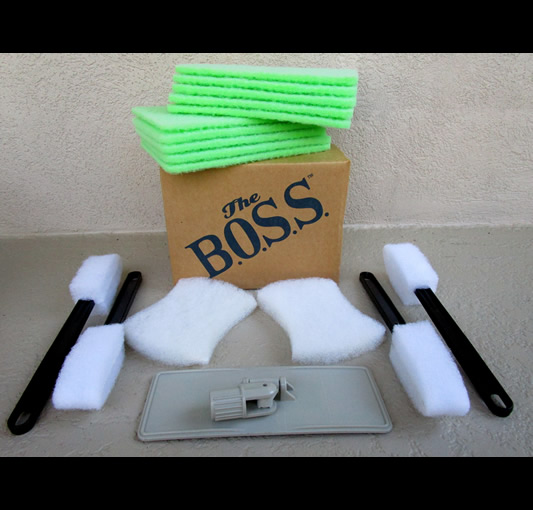 63006 - Box of 6 Aircraft
Flap Well Cleaning Wands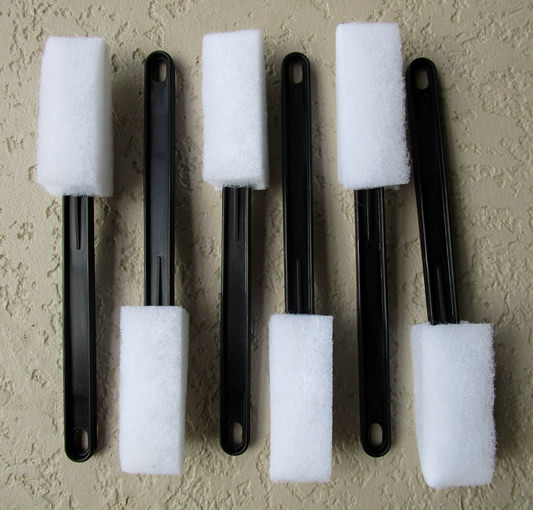 CALL OR EMAIL FOR PRICING – 904-280-1499 or admin@bossproducts.net
All Products will be Available 7/1/18 on DOD EMALL
If You need to purchase through GSA, contact Noble Supply:
Noble Supply & Logistics is an approved GSA contractor holding GSA 51V, 75, and 84 schedules
Noble is currently selling BOSS Products under their 51V contract
You can call into their GSA Buyer team based on your ship-to region:
Cassia (ME, VT, NH, MA, CT, NY, NJ, PA, RI) 781-616-1546 x146

Tyla (OH, KY, TN, VA, WV, MD, DC, DE) 781-347-1728 x1058

Richard (AZ, NM, OK, AR, TX, LA) 781-616-1507 x120

Dawn (MN, WI, MI, IA, NE, IL, IN, MO, KS ,CO) 781-616-1506 x117

Andrea (WA, OR, ID, MT, WY, ND, SD,NV, UT, AK) 781-347-1056 x1081

Leanne (NC, SC, AL, MS, GA, FL, PR) 781-347-1417 x1051

Justin (CA, HI, International) 781-347-1372 x1084